National Croissant Day with @l'appartment4F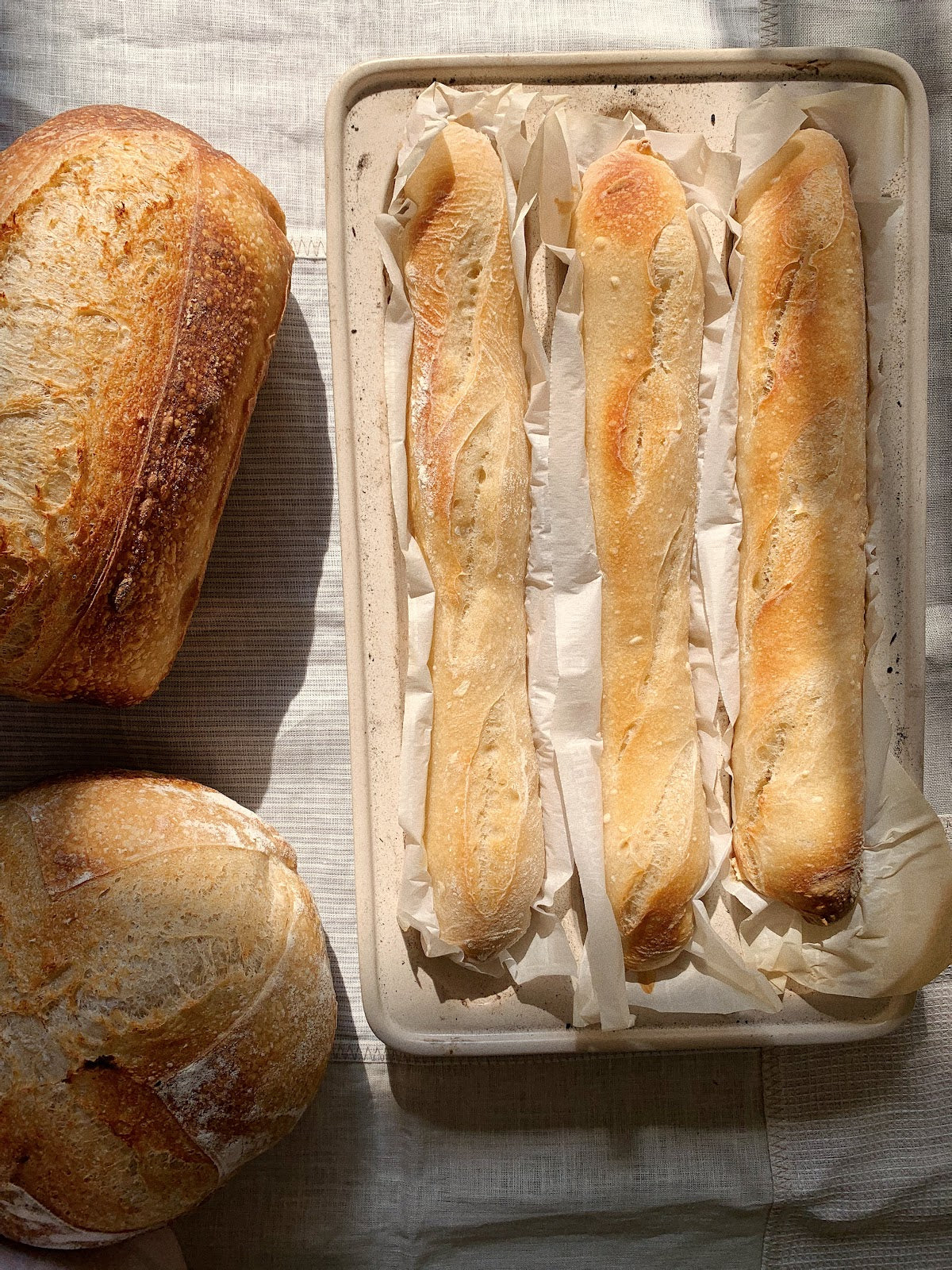 When Ashley Breest walked into an Upper East Side Bar a few years ago, the last thing she thought she would find was a charming frenchman who would not only one day be her husband, but also her partner in a bakery that would launch via instagram in the middle of a global pandemic. But somehow, in a sea of Big Ten School graduates wearing J Crew button downs, there was Gautier Coiffard. From that night on, the two became  inseparable. Little did they know, their impromptu meeting would be the first of many unexpected stars to align throughout their relationship.
 Ashley would soon learn that Gautier was on a quest to find the best bread in New York City, one that could level up to his native France. He visited bakeries up and down the map, from Brooklyn, to Soho, to the Upper East side, before deciding to take matters into his own hands. Pre 2020, baking your own bread wasn't exactly as much of a thing as it is today. So when friends of the couple heard about this new hobby, they were so excited to try the fruits of the frenchmans labor. Word spread fast that the best bread in town was actually made in the couples Cobble Hill apartment. 
In January 2020 while driving through France looking for wedding venues for their upcoming summer nuptials, the couple were listening to the popular podcast, 'How I Made This' hosted by Guy Raz. The episode was based on the story of Kathleen Tate, the founder of the popular Tates Bakery. Ashley could not get over the similarities between her own current situation, and Kathleen's. They were both from the same town on Long Island, and had found themselves, somewhat randomly, the creators of a collection of carbohydrates that no one could get enough of. 'If Kathleen Tate could grow her empire to sell cookies around in grocery stores around the country, why couldn't they at least try to take their bakery to the next level?', Ashley thought to herself. By the time they arrived back in the states, the bakery had an instagram account set up and l'appartment4F was born. 
The first big order was placed in early March 2020 by several of Ashleys colleagues. While the reviews were glowing, the state of the world was slowly crumbling. A week later, we all went into lockdown. While quarantining their Cobble Hill apartment (yes, the apartment 4F), Ashley and Gautier perfected their recipes, adding cookies, and a few types of croissants to the menu. 
In another moment of 'why not' Ashley messaged one of her favorite instagram influencers who she knew had a soft spot for croissants. She asked if they could send over a few pastries and maybe get some feedback from an expert taste tester. Not only did she say yes, but she also posted a rave review on her instagram to reach over half a million followers. From there the orders began to pour in and it was clear l'appartment4F had arrived! Ashley and Gautier have been nonstop ever sense, with business so booming that Ashley has even had to cut back hours at her nursing job. 
I don't think a single person during the pandemic hasn't taken a moment or two to think about what they really want out of this life, whether it's switching careers or fleshing out an idea that had been tucked away and never made time for. The success of L'appartment4F is a reminder that there is never a bad time to just go for it and the universe will always take you where you're supposed to be.