Banana Cake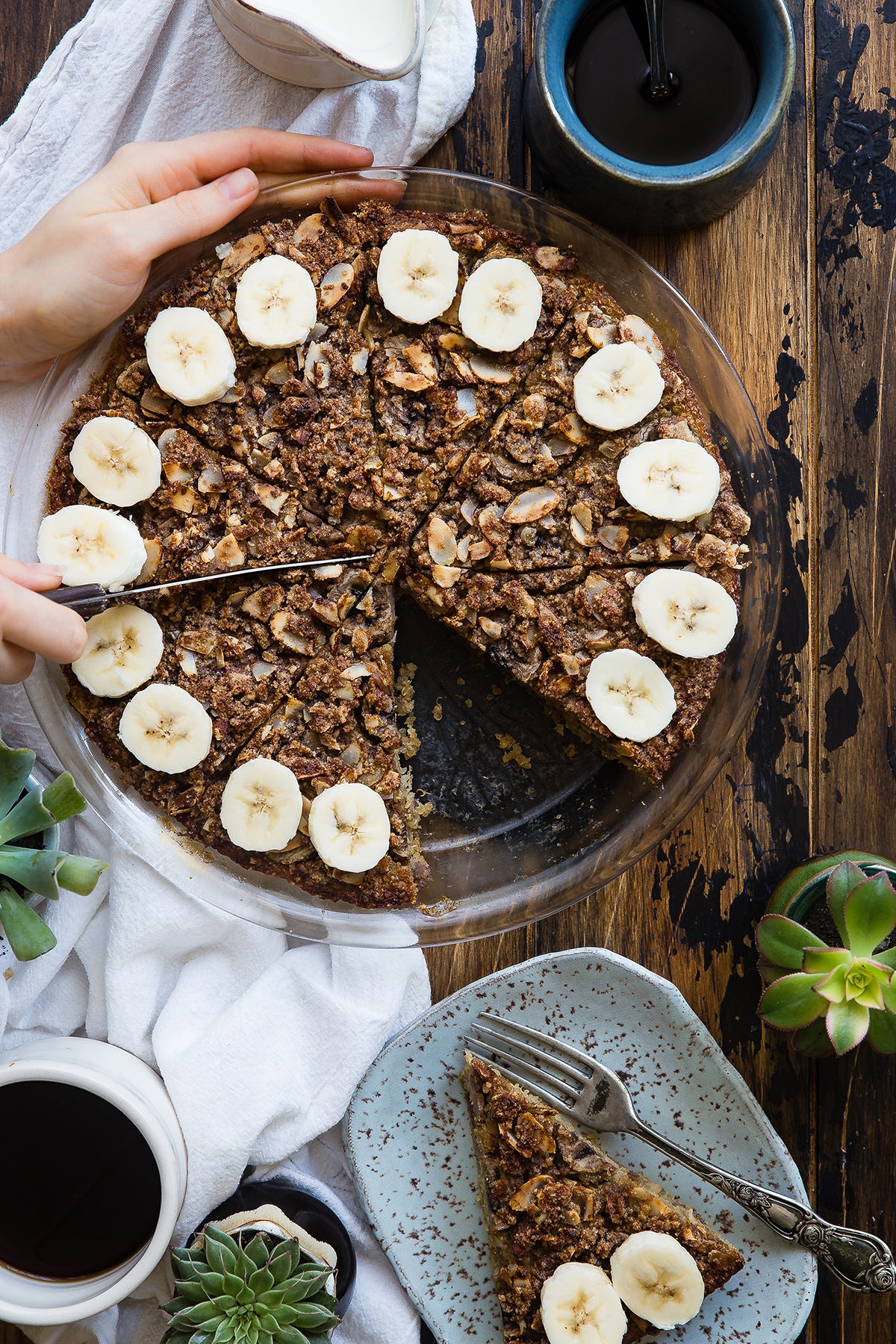 There have been a deluge of hilarious banana bread memes that have come out on the internet lately. My personal favorite being from @aleenkup, "What is it about a global pandemic that signals to people it's time to make some F* banana bread?"  The obvious answer is that we all usually have bananas in our grocery carts and bring them home only to…not eat them…forget about them and inevitably have them brown too quickly. Banana bread to the rescue! 
My mother and I thought we would try to breath some variety into this boring mix of "different chocolate chip" banana breads with two types that fall on either side of the food blog spectrum. Both are a welcomed break from the boring chocolate chip varieties.
It's the vegan-ish gluten-free banana coffee cake loaf Vs. the full butter banana cream cheese frosting cake- The Gauntlet has been thrown…let the games begin:
Kate's Gluten Free, Vegan-ish, Banana Coffee Cake Loaf
This recipe has all the yummy streusel one could ever want sans the guilt. 
Ingredients
For the banana bread
1 cup mashed ripe bananas about 3 medium bananas
¼ cup almond milk or other dairy-free milk or choice
1/4 cup coconut sugar    
1 egg
¼ cup nut or seed butter of choice I used Almond butter
¼ cup of coconut oil melted
1 teaspoon pure vanilla extract
1 1/2 cup blanched almond flour (any almond flour will do)
1 1/8 cup oat flour
¼ coconut flour
1½ teaspoon baking powder
½ teaspoon baking soda
½ teaspoon sea salt
1 teaspoon ground cinnamon
¼ teaspoon of nutmeg
For the center cinnamon swirl 
1 tablespoon of coconut sugar reduce by half
1 tablespoon of almond flour
3/4 tablespoon ground cinnamon
Cinnamon Topping
1/8 cup coconut sugar
1/8 cup of almond flour
1 tablespoon ground cinnamon
¼ cup chopped walnuts 
2 tablespoon of coconut oil
1/2 cup of gluten free rolled oats
½ cup of gluten free granola
1 tablespoon raw turbinado sugar  
Instructions
Preheat oven to 350ºF. Grease a loaf pan with coconut oil and/or line with parchment paper.

Mix together in a small bowl the components for the cinnamon swirl. Reserve for later.

In another small bowl, combine the dry ingredients for the streusel topping leaving aside the coconut oil. Stir dry ingredients together, after dry ingredients are blended together- add coconut oil and begin to pinch dry ingredients together with coconut oil to break it up and combine into a crumbly texture. Do not overhandle- your hands will melt the coconut oil. Reserve for later use

Place bananas in a large mixing bowl. Use a fork or blender to mash them well. Add almond milk, coconut sugar, nut butter, egg, coconut oil, and vanilla extract, stirring to combine.

Add almond flour, baking soda, baking powder, salt, and cinnamon into a separate bowl and stir until combined. Add it to wet batter, combine. 

Pour a third of the batter into the loaf pan. Sprinkle the cinnamon sugar mixture evenly over the top. Spread ½ of the remaining batter over the top as evenly as possible.

Top the loaf with the cinnamon nut streusel evenly all over. 

Bake for 55 minutes to an hour, (Check loaf in center by dipping a knife, if knife comes out clean you are good to go, if knife comes out with wet dough it needs more time). 

Once done, let cool in the pan, slice and enjoy!
If you do not have a loaf pan do not fret!  A cake pan or pie pan will do great! If you use either of these alternatives adjust cooking time because the layer is thinner. 350 degrees for 45 minutes to start, check and if it needs more time adjust accordingly.
*Oat Flour: place rolled oats in a food processor or high speed blender. Blend for several minutes until a fine flour forms. 1 cup of rolled oats equals 1 cup oat flour
Lee's Full Butter Delicious Banana Cake with Cream Cheese Frosting
This recipe is a showstopper. Period. My childhood friends still salivate thinking of eating this cake back in high school. Inevitably when you went to go steal a slice for yourself, you would find tiny finger marks drawn across the perfect white snow icing - evidence of the cream cheese frosting heist from the night before. This cake is great for desert and breakfast, who am I kidding- anytime. 
Ingredients
CAKE
2 cups of granulated sugar
1 ½ cups of canola oil
3 eggs
4 bananas
3 cups flour
1 teaspoon cinnamon
1 teaspoon nutmeg
½ teaspoon salt
2 teaspoons baking soda
1 cup pecans or walnuts chopped
5 separate single pecans (decoration)
FROSTING
1 stick of unsalted butter, slightly softened 
1-8 oz package of cream cheese softened
1 box powdered sugar
1 ¼ teaspoon vanilla
1 bundt cake pan
INSTRUCTIONS
Pre-heat oven to 350 degrees. Grease bundt pan with butter. Dust with flour, patting out excess but be sure to cover the whole interior. Set aside. 
In a bowl, mash up the bananas with a fork until they are well broken up. 
In a mixer with paddle attachment or in a bowl with a rubber spatula- mix sugar and canola oil until well blended. Add eggs one at a time, beating in between each additional egg. Add mashed bananas to batter. 
In a separate bowl, prepare dry ingredients. Sift 3 cups of flour into bowl. Add cinnamon, nutmeg, salt, baking soda, and sift again. 
In batches, slowly add dry ingredients to the batter while continuing to beat or stir. Once dry ingredients have been added, fold in the pecans.  Pour batter into bundt cake pan.  Bake for 1 hour  at 350 degrees. Once ready, remove cake and let cake sit and cool for 30 minutes in pan. 
While cake is cooling, make frosting.
FROSTING:
Cream together butter and cream cheese with a hand mixer, add powdered sugar and vanilla and continue beating until of spreading consistency. If cake is fully cooled, layer on frosting onto cake. Apply reserved pecans to top of cake for decoration.